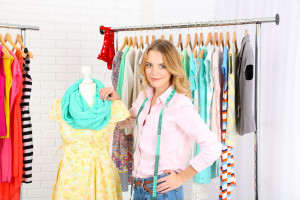 A wardrobe stylist is one of the very popularly emerging professionals in the world of fashion and it acts as the role of one who chooses the accessories, especially clothing for published editorial features, television or print advertising campaigns, concert performances, music videos and any public appearances given by models, celebrities or other fame public figures.
Some secrets of fashion stylists:
Have you ever wondered how models and celebrities always look attractive in all their attributes, whether they are running to have coffee or while walking on the red carpet? The secret behind them is fashion stylists who are fortified with an arsenal of solutions and pointers for aiding them look their best to a greater extent. Let us look at some of the valuable wardrobe stylist tips and their advices on chic dressing.
Have a pair of heels and always wear shoes with heel, no matter even if it is a smaller one.
Bring your ideal shape and when you have wider hips, provide it the impression of a small waist by wearing a top or dress which wraps to show you the slimmest.
Downplay all your flaws. If you are not a person who is crazy about legs, then don't try to drive attention to them by wearing jeans or light colored pants with whiskering or sanding. Pale colors along with details will go well in attracting the eyes. Also avoid wearing cargo style pants having pockets on thighs.
Becoming a fashion stylist:
If you want to become wardrobe stylist, you need to have some essential skills in order to lead a successful career. A good fashion stylist should have a passion for fashion and a curious eye for detail. Additionally, you should be researching the very recent trends and the color schemes constantly. You must also need to undergo some professional training, which will render you a better grounding in comprehending how the industry is working and that will surely open up a way for you to achieve a breakthrough in the industry.
A formal education is necessarily not required for becoming a fashion stylist. However, undertaking wardrobe stylist courses offer students a proper understanding of both the business and creative aspects of the fashion industry. Most colleges provide a minimum associate degree in merchandising or fashion design that offer aspiring stylists a wider knowledge and necessary skills to become successful in the industry.